You can upload your own design during checkout.
Adhesive vinyl lettering and graphics
Easy, do it yourself vinyl lettering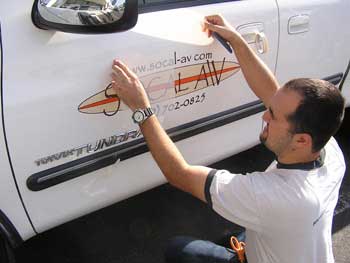 Vinyl lettering & graphics are ideal for Boat names, Vehicle registration numbers, Window lettering, Store hours, Race car lettering, Menu boards, Personal projects…and more!
Not only does lettering and graphics advertise your business while driving but think of the business you'll attract while your car is parked. You'll be amazed at how many customers will be calling you simply based on the message that you have invested in advertising through vinyl lettering and graphics.
What is Vinyl lettering or vinyl graphics? Vinyl lettering is custom cut self adhesive lettering or graphics that has been cut to a shape or design and is ready to apply to any smooth non-porous surface. The vinyl can be cut to basic shapes, for example, cut to the shape of the Nike swoosh or cut to the the letters in your name. Vinyl lettering differs from printed stickers in that vinyl lettering is cut out of a solid colored roll of vinyl, the access is "weeded" away and the remaining cut images are pre-spaced and are held together using a top coat transfer tape. This transfer tape allows the lettering or other cut elements to remain in place as the lettering is applied to the vehicle, wall, sign blank, or other smooth surface.
What we give you? We make our vinyl lettering and decal products easy to install. Your decals will come to you ready-to-apply. All you need to do is clean the area, position the lettering, remove from the backing liner, apply the self-adhesive vinyl to the  window, vehicle, or just about any smooth, non porous, dry surface.
Other uses for vinyl lettering:
Vehicle vinyl lettering
Vinyl vehicle lettering for cars, boats and trucks…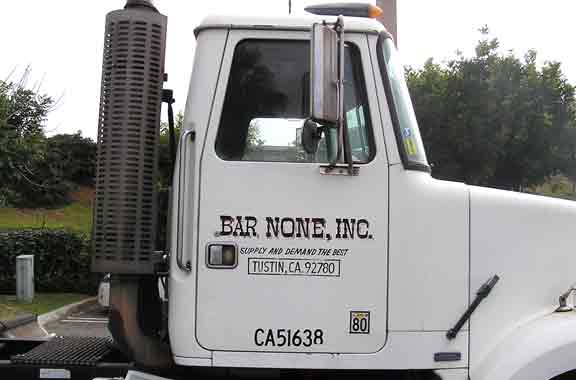 Easy apply vinyl lettering for your car, truck, or van
Whether you want to letter your truck, van, or car, our u-apply vinyl lettering is made for the do-it-yourselfer. Our computer cut vinyl is made pre-spaced and ready to apply. Just tell us what you want to say and we'll do the rest. Or, if you already have a layout of your artwork, just upload it to us and we'll prepare it to your specifications.
Our vehicle lettering can be "cut" to any size, any color and any quantity. Our vinyl lettering will last for years and most probably will outlast the life of your vehicle.
Wall lettering
Vinyl lettering – for indoor or outdoor wall use.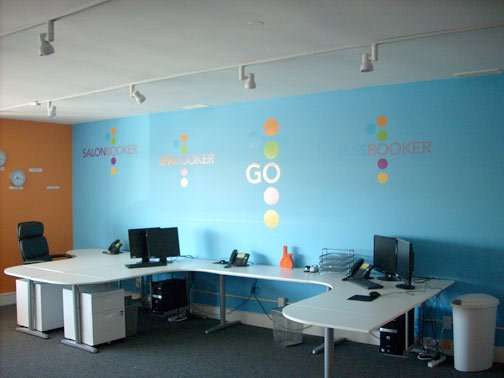 Vinyl lettering for usage on walls is a great way to spruce up the interior of any office, building or home. Lettering can be applied to smooth or slightly textures walls on the interior or exterior of just about any building.
Our vinyl lettering comes in a variety of colors with over 200+ fonts to choose from. The options are endless and can be as simple as a one color line of text to multiple lines of text (and shapes or graphics) in a multitude of colors.
Wall lettering vinyl comes to you as pre-spaced and assembled to allow you to apply the entire line of lettering as one piece instead of one letter at a time. Our vinyl lettering is very easy to install and can be done by yourself or with the help of another for longer pieces of lettering. And ultimately, the greatest advantage to lettering your walls, is the ease of removal. Since vinyl wall lettering is adhesive backed, it can eventually be pulled off with little or no damage to the underlying surface.
Window lettering
Vinyl lettering – easy, quick, and affordable window lettering!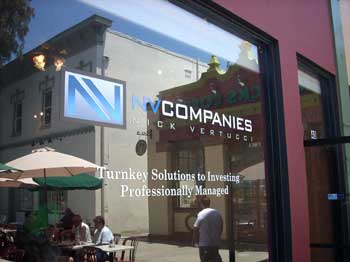 Vinyl lettering is perfect for lettering your windows. Our pre-spaced adhesive vinyl letters can easily be applied to windows…just peel and stick.

Our vinyl lettering can be made to be applied to the outside of your windows (regular read) or can be made to be applied to the inside of your windows (reverse read) facing outward, allowing it to be easily read from the outside.
Window lettering vinyl comes to you as pre-spaced lettering allowing you to apply the entire line of lettering as one piece instead of one letter at a time.
Vinyl Lettering for miscellaneous surfaces
Vinyl lettering is not limited to walls, windows and vehicles.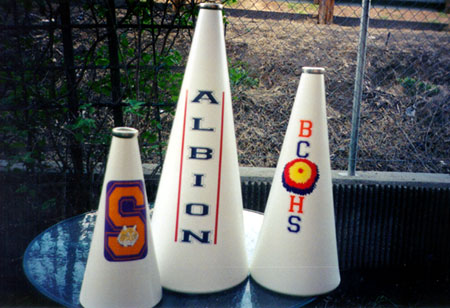 Vinyl lettering can ultimately be applied to just about any smooth, non-porous surface. Some examples would be a piece of PVC; an aluminum sheet; painted wood; corrugated and non-corrugated plastic; vinyl banner material, etc.
We offer a few different types of vinyl lettering for miscellaneous surface application. The two most common vinyl types that we offer, for lettering, are Standard and Premium. Standard vinyl is great for most all inside and outside applications. The Premium vinyl has a more aggressive adhesive and is really only necessary for more textured surfaces.
We offer many different colors to choose from, and have a font base of over 200 different standard and specialty fonts. Vinyl lettering comes to you pre-spaced and ready for instant application as a whole piece (not letter by letter….unless of course you would like the letters all separate of each other.) Most all lettering applications can be done by your own self; and maybe with the help of another for larger pieces.